Juices, Purees & Concentrates

The fruits and vegetables sourced for our NFC (not-from-concentrate) juice manufacturing process can be provided cloudy (unfiltered) or clarified, and also either pasteurized or unpasteurized. Our juices undergo minimal processing in order to preserve the characteristic color and flavor profile of the given fruit or vegetable. Our juices work well in a variety of applications from premium organic juices to hard ciders and wine.

Our purees also undergo a minimal amount of processing to preserve as much of the natural fruit or vegetable character as possible. The only ingredient in our purees is the fruit itself – no added colors, artificial sweeteners or flavors, which makes them suitable for clean label products. Tides can offer purees in aseptic and frozen packaging. Common applications include jams and jellies, deserts, toppings, smoothies and craft beer.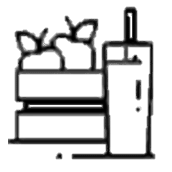 Fruit and vegetable juice concentrates are at the core of what we do. As importers, we ship in hundreds of thousands of gallons of juice concentrate on an annual basis to supply clients ranging from nationally branded beverage manufacturers bringing in several loads per week to small start-ups ordering 5-gallon pails.

Our concentrate is processed from NFC juice through evaporation to remove water, leaving a clean label 100% concentrate that can be reconstituted by simply adding water. Concentrates are typically brought up to anywhere from 40 to 70 brix depending on the fruit or vegetable. Natural essences are separated and collected during the evaporation process. These clear liquid products can enhance flavor and aroma in beverage applications and also provide clean label solutions to use in your formulations.